Gambling is taking less popular, mainstream sports to new levels
This week, the XFL (eXtreme Football League) kicked off its season in eight cities, including three teams in Texas (Houston, Arlington and San Antonio), one in Orlando, Seattle, Washington D.C., St. Louis and one in Las Vegas. The XFL has had a long history of failure. The first XFL season was in 2001 started as a joint venture between the WWE and NBC. The concept of an American Football league to commence after the conclusion of the NFL season, filled with an attitude, some unusual rules, scantily dressed cheerleaders and rougher play intrigued many football fans. Or at least it did for a brief time.

The league was mostly filled with CFL and NFL players that were unable to make it in their leagues, along with undrafted college players. Viewership was very high in the first week as sports fans wanted to see what it was about, but ratings quickly plummeted and it was clear the league wouldn't survive. Unfortunately, the play was inferior, the on-air presentation was poor, the rules were a bit confusing and most importantly the games were just plain boring. Instead of being an "in your face" brand of football, it was simply laughable. Running back Rod Smart who wore a jersey that read "He Hate Me" was perhaps the most memorable part of the that first XFL league which folded in one year. The XFL promoted gambling on the sport that year and even worked with Las Vegas sportsbooks to help create lines, but since sports betting was still unlicensed everywhere else in the U.S. and offshore gambling didn't buy in, it really didn't help.
In 2018, Vince McMahon announced he would be revamping the XFL. He indicated the new league would include less controversy, a faster pace and simpler rules to allow even novice football fans to follow along. Most importantly he believed that betting on the games would help generate interest. In May of 2018, the Supreme Court struck down the Professional and Amateur Sports Protection Act (PASPA) which allowed states to offer legal betting on sports. Yet, at the time the XFL launched (again) there were still only a handful of states that had legal sports betting, but McMahon knew that number would grow quickly. And McMahon was right about interest in the league because of betting. The few states that did offer XFL betting received fairly good handle in the first five weeks of play, even though attendance at games was poor, and by all accounts betting on the XFL in the states that had legal sports betting was better than expected. Unfortunately, what McMahon couldn't have envisioned was the COVID-19 virus becoming a pandemic leading to lockdowns that effectively wiped out the XFL season. Short on funds and unwilling to ride it out, the XFL declared bankruptcy and in August 2020 actor Dwayne (The Rock) Johnson along with partner (and ex-wife) Dany Garcia purchased the XFL for $15 million. The league sat out the 2021 and 2022 season as it focused on rule changes and ideas to make it viable, plus Covid was still a concern in 2021 and early 2022 although lockdowns had all but ended.
The latest iteration of the XFL began this weekend and every legal sportsbook had odds up on the opening weekend's games. Most were also offering in-play betting and according to a source at Bet365, betting on the games in both New Jersey and Ontario was "quite encouraging," although he said he couldn't provide any actual betting figures until later, when all games are played and they run a report.  DraftKings, which was announced as the "official daily fantasy sports provider for the league" apparently decided to maintain that partnership and the XFL has signed on a partnership with Genius Sports to be "the official betting data distributor partner and free to play provider of the league." Genius Sports works with legal sportsbooks to help them set odds and those who sign on to use their odds are deemed official gaming partners. The league also announced Westgate as the official Las Vegas Resorts partner giving visitors to Las Vegas suite upgrades, tickets and multiple other concessions as part of staying at the resort.
"Westgate is known for being a leader in providing premiere hospitality for its guests and we are excited to have them joining the XFL as a Founding Partner," said Dany Garcia, Chairwoman and Owner. "As we begin this XFL season and beyond, this partnership enables us to further take care of our fans and provide them with even more unique experiences at our games," the XFL posted on their website in a press release.
It's clear that the XFL realizes that the success of the league will rest a great deal with whether sportsbooks and sports bettors buy into the league and wager on the product, since play itself likely won't be enough. But providing bettors a football option in the winter and spring that allows them to still follow a sport they love with a vested interest in it, could indeed make it viable. And as someone said to me "The Rock doesn't invest in something unless he believes he will make money."
More Football
Along with the XFL, the USFL, which was all-but-dead two decades ago, restarted last year to some mild success. Fox owns the league and all games in the league were played in Birmingham Alabama, even though it technically had eight teams in different cities. The games were broadcast on Fox, NBC, USA and FoxSport and viewership and attendance was extremely poor. Betting was also weak on the product, but Fox hopes to turn that around this year.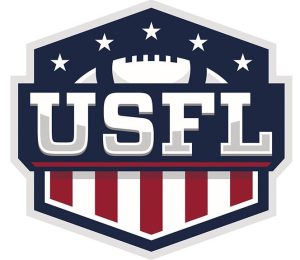 The league will commence the 2023 season in April, which will only put it up against the XFL for their playoffs, but by all accounts, the leagues will not compete for air time and will play on different days in April. In fact, the USFL is hoping that the XFL succeeds because it will just spur continued interest in American football once the XFL season ends for the year. Like the XFL, the USFL indicated that they believe legal gambling is important to make the league relevant.
"We believe that the availability of legal sports wagering is another way fans can deepen their engagement with our games," Edward Hartman USFL Executive Vice President, Business Operations. stated when the league began operations last year. "We look forward to our fans being able to bet responsibly on USFL games in every state where sports wagering is legal."
When the USFL started last year there were 15 states with legal sports betting, but that number has almost doubled and the league is expanding its games to be played in four cities rather than all games being played solely in Birmingham. Detroit will be hosting the Michigan and Philadelphia teams, Memphis will be hosting the Memphis and Houston teams, Canton, Ohio will be hosting the Pittsburgh and New Jersey teams and Birmingham will host the Birmingham and New Orleans teams. It's notable that only Birmingham does not have legal sports betting of all those cities.
More sports getting a boost
Along with the two American football leagues, some other sports that seemed to be declining in interest or never even generated any interest to begin with are becoming quite relevant again thanks to sports betting. The most notable of the sports, believe it or not, is cornhole. Once seen as a game played among friends, cornhole has not only become popular, but it's actually outpacing some major sports in viewership and there is even talk that it may become an Olympic sport! The American Cornhole League and DraftKings formed a partnership in 2021 to make DraftKings "the official sports betting partner of the American Cornhole League (ACL)." Ironically, the lockdown in 2020 likely was significant in the growth of cornhole since it was an outdoor activity and gave people something to do. DraftKings has a famous commercial aired everywhere it operates in collaboration with the ACL which says "anyone can play and anyone can win." Not to be outdone, FanDuel released its own cornhole betting ad where a vehicle filled with 20 somethings picks up an older hitchhiker on the side of the road who turns out to be a cornhole prodigy. In that commercial FanDuel states "every moment in life is a bet."
Other sports that seemed to be revitalized as a result of legal betting include the following but are not limited to:
Curling – starting on a bit of decline during the pandemic, Curling Canada set up a partnership with PointsBet to make them the official sports betting partner of the sport. As well, all the major Ontario sportsbooks offer odds on the main competitions in Canada, with very good betting handle. And Bet365 offers odds on all Canadian and international curling championships, which they have said is very popular and profitable.
The CFL (which had planned to partner with the XFL in 2020) seemed in deep trouble after the pandemic lockdown and there was talk the league may fold. But the league signed a betting partnership with BetRegal, while PointsBet and Bet365 set individual partnerships with various teams, and betting handle for CFL games was much better than usual, according to one source.
UFC, which was involved in a betting scandal, has revitalized itself thanks to a partnership with FoxBet.
The NASCAR Truck Series and NASCAR Xfinity series was seeing declining interest and viewership until about three years ago, but it has become quite popular again thanks to sports betting on the product.
Indy Car racing which seemed almost ready to fold after the split with CART has become quite relevant once again thanks in great part to betting on the sport, along with a partnership with Caesars Entertainment naming them the Official Sports Betting partner of the Indy500.
Along with the sports just mentioned, popular sports have been able to grow as a result of sports betting partnerships. In golf, the LPGA has always had a following but has been able to increase purses partly as a result of its sports betting partnership with BetMGM and fueled by betting odds on all major sites, while the PGA Tour increased its purses to almost $564 million in the 2022-2023 season, something that was likely necessary to convince some of its elite players not to defect to LIV golf. It's likely the PGA wouldn't have had this opportunity if not for sports betting partnerships it created with FanDuel, PointsBet and BetMGM. And all three companies get their money's worth as the broadcasts are quick to point out the updated lines and promote the companies as much as they can on the broadcasts.
In addition, almost all major sports teams have a partnership with one sportsbook or another and even the NCAA, which once said it would agree to promote sports betting when hell freezes over, allowed conferences to sign deals with sports betting companies and work with sports betting data companies to create odds. The logic with all the leagues is that you can't put the genie back in the bottle and working with sports betting companies benefits the leagues themselves by providing additional money for salaries and stadium improvements and for colleges it gives the schools more money for scholarships. Thus, it is a win-win situation.
So, this past weekend was an exciting start to a new sports betting season, as NASCAR kicked off with the Daytona 500, the XFL began its first season with The Rock, the NBA had its All-Star weekend, and in Canada, the Canadian Women's Curling championship got underway with the Scotties Tournament of Hearts. Each of the leagues has its share of followers and thanks to betting on the sports, each of those leagues likely saw some added interest due to the ability to bet on the games and events. It was estimated by Grandview Research that the global sports betting market was worth USD$83.65 billion in 2022 and will reach at least $182 billion by 2030, all spurred by legal sports betting in North America. But perhaps the most exciting part is that leagues that were all but dead a few years ago and sports that had little following are now quite relevant again thanks to sports betting. As the DraftKings ad said "anyone can play and anyone can win", and the winners in this case are the leagues, the athletes, the governments and even the bettors who can now bet on their favorite sports without worrying if they will get paid or have their funds confiscated as was the concern years ago when only illegal and offshore sports betting was available.
Read insights from Hartley Henderson here at GamblersWORLD!