Saturday was the Kentucky Derby, and the event which historically would have once been looked forward to by horseplayers and non-horseplayers alike was effectively met with a shrug. Even before morning line favorite Forte was scratched there was little written about the race, and handicappers like Andrew Beyer called it one of the weakest and least interesting fields he could recall in some time.
The heyday of horse racing was arguably the 1970s and 1980s when horses like Secretariat, Seattle Slew and Affirmed ran. The Triple Crown races were covered on mainstream TV and newspapers, and it seemed that as many tuned into those races as they would the Super Bowl or World Series. Everybody with any interest in sports knew the names of the best horses and jockeys of they day and generally followed their careers as they would with any favorite athlete. But over time interest in horse racing has just seemed to dissipate.
There are many possible reasons for the demise of interest for horse racing including, but not limited, to other gambling options being available; the lack of horse safety and the belief by many that it was a cruel sport that considered horses disposable commodities; the actions of trainers and tracks who put winning ahead of animal safety; publicly available handicapping systems and software that resulted in far lower payouts; loss of the local track experience; and the the continuing lack of options for children at racetracks. I'll examine each of these individually in this two-part article.
More gambling options available
Prior to the 1970s there were really no gambling options in North America except horse racing, bingo, betting with an illegal bookie or taking a trip to Las Vegas or Atlantic City. In the 1970s states began offering lotteries which were very popular, but didn't have any major effect on horse racing. While no horses were able to win a Triple Crown in the 1980s or 1990s, stories like Winning Colors becoming the first filly to win a Derby since WWI and the introduction of the Breeders Cup in 1984 that created an all-star event, ensured that horse racing stayed a dominant part of most bettor's psyche.
The first big blow to the interest in horse racing likely took place in 1986 when Roxy Roxborough created America's Line for Las Vegas Sports Consultants, which displayed the lines offered at Las Vegas sportsbooks for professional and college sports.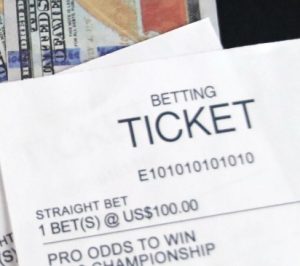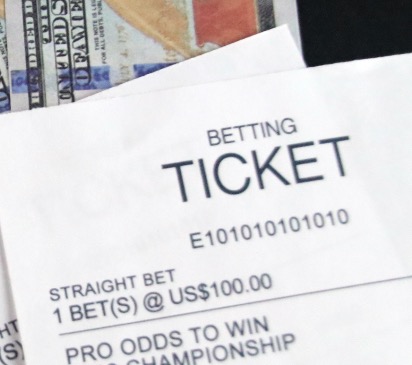 These lines were regularly printed in newspapers and on some TV stations. Not long after, many younger people interested in gambling started betting with illegal bookies or among themselves on the NFL, NCAA and other leagues, now that they could see legitimate odds and thus many gamblers abandoned horse racing. This only intensified in the early 1990s when legal offshore bookmaking started catering to North Americans.
Offshore companies like Bowman's International, The Greek and WWTS were authorized by the countries they were located to take phone bets from anywhere in the world and bettors throughout North America jumped at the opportunity. Moreover, starting in 1996 when internet betting began, younger tech savvy individuals began wagering on sports offshore and abandoned the racetracks in droves. This became quite evident as racetracks were seen as "places for old people" among the youth and younger adults and it was apparent as the grandstands were filled with a much older demographic. As this demographic began to die off or became too sick to attend races, attendance and handle at the track collapsed. By 2000 all handle, including on-track and off-track declined as well. In fact, the handle between 2000 and 2019 (which excludes Covid years), saw a 27% decrease and attendance was even worse. The attendance has been so bad in recent years that big tracks like Hollywood Park and Hialeah shut down, claiming they couldn't justify continuing operations.
During that time, betting on sports offshore increased and after 2017, when SCOTUS repealed PASPA, betting in legal North America casinos and websites increased dramatically. It should be noted that in the UK, Australia and some other countries, horse racing has always remained popular because sports betting was legal in those countries since the 1960s and bookmakers built horse racing into the product. Unlike the U.S., where horse racing is still only legal as a pari-mutuel option, the UK, Australia, France and other countries all offer fixed odds betting where horse bettors know exactly what odds they will be getting, and different bookmakers offer varying odds, which gives bettors there some options in getting better pricing. Consequently, betting on horses is treated in the same way as soccer, baseball or any other sport.  Many sportsbooks in the UK, like Bet365 and William Hill, even offer a "best odds guaranteed" promotion, whereby if the fixed odds starting price is larger than the odds the bettor took when they wagered, they are given the better odds.
This of course is far different than in North America, where a bettor may wager on a horse at 8/1 odds only to be paid out at 3/1 or worse once all the pools from across the country are comingled and the track takeout is applied. It is and always will be one of the biggest complaints against pari-mutuel wagering. For that reason, there is a lot of discussion in North America about offering fixed odds racing in the future to change the narrative.
The evolving concern for animal safety and welfare
I recall going to the track with my grandfather in 1980 and seeing a star horse, Swisskin, break its leg in the Woodbine Oaks and having to be put down. It was also the race where jockey Avelino Gomez lost his life after he was stepped on by another horse and died in hospital a few hours later. The break for Swisskin was so bad that track staff covered the horse with a big green cloth while the track veterinarian euthanized the horse on the spot. While the older fans were concerned for Gomez, it was clear that the younger fans, including myself, were upset about the horse. I remember my grandfather saying in a very nonchalant voice that "this is racing" and you just accept that horses will die. It wasn't my first exposure to horses breaking down on track, but it was the first time I actually witnessed a horse being put down immediately rather than being vanned off first. My grandfather laughed that at least it was better than decades earlier when tracks wouldn't even shield the horse with a cloth or blanket and would just get out a shotgun and shoot the horse in front of the fans.
That statement clearly indicated the difference between the older generation and younger generation with respect to concern for animal safety and indifference.
Starting with the end of the baby boom generation and especially with generation X there has been a major shift where individuals see animals as living creatures that deserve to be protected. Groups like PETA, the SPCA and Greenpeace started becoming more relevant and many of these groups put out statements saying that horse racing was a cruel sport. In their opposition, they cited how the horses are being run far beyond their capabilities.
They suggested horses were trained too hard, were raced too often and were bred for speed, resulting in a frame that makes it impossible for them to survive a bad break.
They also said that horses are being raced too young, often before their bodies are fully developed and before they can learn to run more safely. The groups also commented that unfit horses are being drugged to allow them compete in races that they are clearly not fit to run. Some animal welfare groups also said that horses that could be saved were being euthanized rather than getting life saving treatment. If the horse will not race again or when horses can no longer race, many are often put down rather than being allowed to live out their lives on a farm. The story of how Ferdinand, the 1986 Kentucky Derby winner, ended up in a Japanese slaughterhouse still has many people shaking their heads.
It is also notable that the high number of fatalities in jump races throughout the world, mostly in Europe, are met with indifference by those in the industry there. In fact, this year's Grand National race at Aintree in Liverpool, England was delayed for 14 minutes because there were more than 40 protestors petitioned outside the gate objecting to a race that almost guarantees horses will die each year, due to the length of the race and the size of the fences. According to reports 36 horses have died at the 3-day Grand National Festival since 2010, including three this year.  The British Horseracing Authority said they have made efforts to make it safer for horses and "only 0.2% of horses have died over the last two decades", a decline by over a third. Not surprising, this statement was not met with praise, as one person asked whether it would be ok to say that The Olympics were safe because only 0.2% (around 6) athletes die during the games each time they are held. And in North America it is even worse.
It seemed like every time there has been an attachment to a specific horse by children and youth, they have either broken down or had to retire due to injury.  Smarty Jones was a favorite among kids in 2004 and had to retire due to ankle bone injuries and Barbaro had a huge youth following after the Kentucky Derby in 2006 and had to be destroyed not long after the 2006 Preakness after shattering 20 bones in his leg, an injury the horse racing industry acknowledged likely turned off a potential whole generation. Perhaps the most disheartening injury was Eight Belles in the 2008 Kentucky Derby. After finishing 2nd to Big Brown, Eight Belles collapsed just past the finish line and the break was so catastrophic that like Swisskin, she was just euthanized on the track. Analysts and animal rights groups said she effectively pushed herself to death in a race she shouldn't have been entered in. These were just some of the most evident injuries because they occurred in televised events, but the number of injuries and deaths have increased yearly, and it seems the racing industry has thrown up their hands.
For all the talk the racing industry has made suggesting they are taking all steps to prevent injury, there has been little done. Some tracks in California banned race day Lasix after a card at Santa Anita Park in 2019 saw 42 horses die shutting down the spring meet early, and a letter from Belinda Stronach who said that her company was doing everything to make racing at their tracks safer including offering several solutions seems to have just been shelved. And just this past week, seven horses died on the track at Churchill Downs, including Kentucky Derby entry Wild on Ice, who broke down in training along with two others on Derby Day. And one trainer, Saffie Joseph Jr., who had two horses die during the week, was suspended by Churchill Downs indefinitely, pending an investigation. That decision led to his horses being scratched from the Kentucky Derby. The question is what Churchill Downs and the Kentucky Racing Commission will do about it going forward.
Saying "that's racing" and just accepting these breakdowns as a part of the industry, as my grandfather did, was once acceptable, but nowadays it just seems to emphasize that horse racing can be a cruel sport and lends credence to the concerns of animal welfare groups. And for all the talk by racing commissions that they are doing everything to make horse racing safer, it can't be ignored that many tracks that turned to synthetic surfaces because they were safer for horses (which was proven by the decrease in catastrophic injuries for tracks that adopted those surfaces), have gone back to dirt surfaces because they are cheaper and because many old style horseplayers said they find it too difficult to handicap synthetic surfaces. In the end, it all points to an industry that appears to be putting money before safety and as long as that is the case, young fans who value animal welfare will be turned off.
The actions of trainers who put winning ahead of animal safety
No one will deny that trainers are essential to the success of horses. Almost every horse trainer cares deeply about their animals and trains them in a manner that teaches the horse how to race without endangering them. Unfortunately, there are some trainers who only see horses as commodities and will do anything to win. Unscrupulous trainers have been around for decades, but in recent years, as horse safety has taken the forefront, many of those trainers have been brought to task.
The first most notable trainer that was outed as a dirty trainer was Rick Dutrow, who got suspended for 10 years in 2012 by the New York Racing Association for admitting to 72 drug violations, including injecting Kentucky Derby and Preakness winner Big Brown with an anabolic steroid.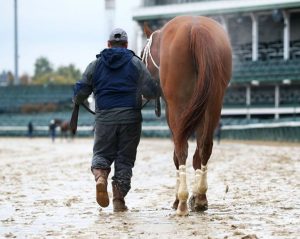 His suspension was lifted this year and there is quite a bit of anger in the industry and by animal rights groups who say he should have received a lifetime ban. But more recently Jason Servis and Jorge Navarro got jail time, in addition to a lifelong ban, for their actions. Servis admitted to drugging every horse he owned, including Maximum Security, who won, but was disqualified in the Kentucky Derby, and Navarro was shown to have drugged his horses to death. Moreover, the evidence which brought those two trainers to the attention of the Attorney General's office showed that a group of trainers were involved in a scheme going years back to dispose of the bodies of the dead horses before it could come to the attention of the racing boards. So, while Servis and Navarro were charged, it's clear that this disregard to animal welfare is widespread.
In charging the two trainers, the U.S. Attorney for the Southern District of New York said that their actions were all about greed with complete disregard for the horses and one columnist on social media who said he was done with the sport after this came forward saying, "why would I still want to be involved in such a cruel sport where there is such an indifference to the animals I follow and love." No doubt much of this mistreatment of animals by trainers was going on prior to the glory years of racing, but the philosophy has changed since then and bettors want to know the animals are being taken care of, not to mention that they want to be sure they are betting into a fair system and one thing handicappers can't account for is cheating. In many ways it's the same thing that happened with wagering on baseball after the steroid scandals and the Dowd report, which led to a drop in attendance, viewership and betting on MLB games.
These incidents were bad enough, but when superstar trainer Bob Baffert was found to be doping his horses, including Medina Spirit (who died of a heart attack later in the year after being stripped of a Derby win), frustration really rose. Baffert was considered "one of the clean ones" and his success with horses like American Pharaoh and Justify was just attributed to him being a good trainer. But when the doping of Medina Spirit, along with 2019 Triple Crown winner Justify and Arkansas Derby winner Charlatan came to light, it just provided some support to the belief that every trainer drugs their horses. Baffert's two-year ban by Churchill Downs for Medina's Spirit's positive test was deemed a joke by most animal rights groups who wanted a lifetime ban on him to make a statement. Most animal rights groups along with some industry people want drugs banned outright in North America and the zero-tolerance policy like the British Horse Racing Authority has, along with lifetime bans for trainers that violate that, is what they are pushing for. Horse breakdowns in the UK do occur, but in flat racing, the breakdowns are far less common than in North America.
Check back tomorrow here at GamblersWORLD for more on my thoughts about the slow demise of the horse racing industry in North America in part 2 of this mini-series.