Publicly available handicapping systems and software and smaller fields resulting in lower payouts
A few decades back racetracks were filled with touts who would try and sell their picks for a price. There was nothing overly special about their methods and their rates of success were generally not that good, but some individuals trusted them. More common than that, touts would work together where they would all provide "free" picks to patrons with each tout providing a different horse they expected to win. Once the race was over, the tout that provided the correct winning horse would then approach the ones he gave the pick to and try and sell them the picks for the rest of the card. Most race goers, however, made their own predictions and based their picks on prior race results that were published in the Daily Racing Form (DRF). Some handicappers were better than others at their trade although for the most part handicapping was mostly based on best guesses using variables like pace, class and speed and the results for most handicappers was so-so. Things dramatically changed in the industry when Washington Post horse racing columnist Andrew Beyer calculated a system to create speed figures that allowed him to compare horses racing in different classes and at different tracks and he posted his picks in the Washington Post for races at Laurel racetrack with good success. He revealed these methods in 1975 in his first book Picking Winners and they were publicized again in later books he wrote. The methods, while proven, still required a lot of effort and time by race goers so the vast majority of horse players never bothered to create their own figures.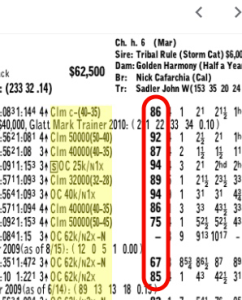 In 1992, the DRF, with the help of Beyer and some sophisticated computer programs, began publicizing the Beyer speed figures in its publications. Suddenly, every individual that bought a DRF could see for themselves what the figures were for each horse. And although there have been some refinements, the original method developed by Byer has stood the test of time and are acknowledged as one of the most important factors in determining which horse will win a race. Unfortunately for bettors, the availability of this information also led to a huge decrease in the winning payouts for most horses. Beyer himself acknowledged that one of the big selling points of horse racing has always been the ability to make a big profit with large odds on overpriced horses, but after his system was publicized in the DRF, horses that often would go off at 10/1 due to lackluster performances on paper were going off as low as 3/1 because the Beyer speed figures indicated the horse was better than it appeared on paper. To make matters worse exotic wager payouts started seeing big declines as well. In an interview with the New York Times around 15 years ago Beyer said that horse racing was often equated with winning the lottery, but with much smaller payouts. The lottery players quickly got turned off the sport looking for better returns with lottery-based products.
Since that time other systems have come out to predict winners of races. Companies like Brisnet and Timeform started producing their own figures and provided speed and pace figures to help novices, and software such as BetMix and Trackmaster gave people the ability to create their own tools to handicap races. With all these resources (not to mention home made handicapping tools developed by tech savvy individuals as computer technology improved), has seen odds go down even more. Some reports indicated that at the top tracks in the U.S. payouts were down almost 25% over the last decade. Field sizes have also declined leading to lower payouts, but the biggest factor for the lower odds is just better handicapping resources. The lower payouts have turned off most sports bettors because they have deemed there is no profit to be made anymore and they aren't interested in betting on a product they don't feel can win. Like is the case betting any sport, bettors are looking to wager on odds that they believe are better than they feel they should be and they just aren't interested in throwing a bunch of money on a 2/1 shot that once would have been 4/1 or more, when there are better opportunities out there with other sports.
Loss of local track experience
For most of history a trip to the racetrack was considered an outing and an experience like going to a game or even a movie. Horseplayers and families would plan a trip to the racetrack in advance and the adults would generally take money with they were prepared to lose. The parent would often even place a small wager for their kid. Every track charged for admission and parking and once the family took their seats, they would watch the horses warm up either on track or in the stables, watch the tractors do their jobs, talk to each other about things other than horse racing and spend time handicapping the next race and watching the race itself. Once the race was official, they would go back to the routine and possibly have a refreshment or avail themselves of other options at the racetracks. Many larger tracks offered on-track entertainment on weekends to keep patrons, including children, occupied as well. Betting also was restricted to the local track only and often required lining up at a ticket window. Depending on the track and day of the week this could take a few minutes, particularly if one was trying to bet at the $2 windows. In much of Europe this is still the case.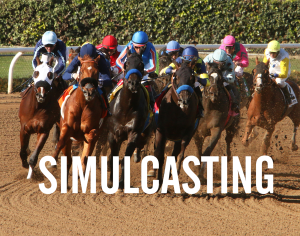 Once simulcasting became allowed in North America that local experience dramatically changed. At first simulcasting was only allowed at off-track betting shops (generally dark, dingy and smokey environments), but over time every track started offering betting from other racetracks across North America, similar to the experiences only seen in Las Vegas casinos. This was both a blessing and curse for the industry.
The positives were that it allowed more handle at the tracks and increased profits to the industry, but the negative was that the local experience quickly dwindled. Instead of making the local track a family outing where families bonded together, people were sitting in front of TV sets inside the buildings and wagering on different tracks. Most only went outside to watch the live race once they began. Instead of a local entertainment venue, racetracks were simply becoming a place to gamble constantly, and the local horses were just another gambling option. Family time disappeared resulting in fewer families making the racetrack an entertainment option and often individuals would leave the track before the local card was complete because they ran out of money after betting on the simulcast races. Add to that the availability of ATMs at racetracks often individuals bet beyond their means. This led to concerns about problem gambling and wagering what one couldn't afford, which previously wasn't a real concern with horse racing.
Moreover, many racetracks started putting in casinos or at least slot machines which diverted horseplayers away from the racing itself. The casinos provided ancillary revenue to the tracks, but the love of the sport and interest in horse racing started to dissipate because people would go to the casino during the break time between races rather than watching horses warm up or taking the time to handicap. Again, the racetrack was becoming a place to gamble one's brains out rather than a sporting event to enjoy. Because a track really couldn't charge for admission to play casinos, most tracks with casinos stopped charging for admission and parking which ate into their revenue, but also drew a new clientele they may not have wanted. Horse racing always considered itself to have a more upper-class form of gambling. It was "the sport of kings" and was often a place where men wore suits and women wore dresses and fascinators. But dress codes long disappeared and bums looking to get rich quick at the casinos or picking up losing tickets on the ground and feeding them in droves through the SAM machines hoping that someone threw out a winning ticket became the norm. Of course, the major races like the Triple Crown or Breeders Cup still only attract mostly well-off individuals since admission is still required for those races and often at a hefty price, but for other races there has been a dramatic change. The bottom line is that going to the racetrack is no longer seen by most people as a fun, family outing but rather just another place where gamblers go to get their fix.
The continued lack of options for children
One issue that was always a contention with families was the lack of activities for children and youth to do at the track. Unlike adults, children bore easily, and tracks never provided activities for kids. Some tracks tried to accommodate children by putting in arcades or offering horse drawn hayrides on the backstretch, but for the most part kids just sat there with their families waiting for the races to end so they could go home. I recall meeting with David Willmot in the early 2000s when he was CEO of Woodbine Entertainment Group, and he relayed his vision for Woodbine. He said he wanted an experience where the track would be a place for all. He said he wanted to see a casino (which hadn't been built yet), an expanded horse racing theater and a large, supervised play area for kids. "The wives can go to the casino, the kids can be entertained for free in the play area, and the dads can watch and wager on horse racing," Willmot said to me. The casino did get built and indeed attracted a lot of women along with men, the horse racing venue stayed as is and really never expanded other than more TV sets and more automated wagering machines, but the kids play area was never developed. To make matters worse, a large part of the ground floor outdoors was taken away so there was even less room for kids to run around. This, I later found out, was the same at virtually every racetrack in America.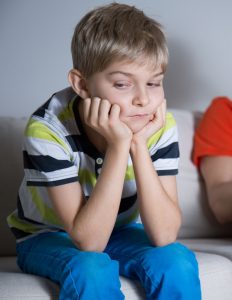 I spoke to a manager at Belmont Park a few years later and relayed Willmot's comments and he said that the kid's playground could never happen because they need the kids to focus on racing so that they will replace parents and grandparents as that generation passes on. It indeed is a catch-22 situation. The tracks want the kids to be entertained and kept busy, but they also need them to enjoy the races so that they will be the future gamblers. And unfortunately, the two hopes don't mesh.
An unseen concern for the industry also started developing in the late 1990s. Governments started to be concerned with underage betting with the rise of internet wagering. Most U.S. gamblers will still recall Senator John Kyl's statement that kids would steal their parents credit card, set up a site online and "click the mouse and lose the house." The concern was obviously ridiculous, but it was clear that the government didn't want gambling companies promoting to kids. Kyl obviously wasn't referring to the horse racing industry, but many anti-gambling groups today have said it is hypocritical that horse racing is even remotely considered a family activity suitable for kids.
People have to be 21 in most states and 19 years of age in Canada to enter a casino, they have to be that age to set up an online gambling account, and they have to be that age to do most adult activities, but they are welcome at the racetrack at any age. In the old days this wasn't relevant, but with the changing sentiments around problem and underage gambling it is a concern. And there are anti-gambling groups who have petitioned the horse racing industry to follow the rules of casinos and disallow anyone under the age of 21 at the tracks. This will likely never happen, but tracks and racing boards have to be careful not to appear to be urging younger people to become gamblers, while at the same time hoping for exactly that, because without young people following in their parent's footsteps there will be no industry. It is a difficult time in this regard. Parents who want to go to the track often take their kids because they have no other option, but they have to find a way to entertain them, and the tracks are offering no real options nor really want to provide a solution. Add to that the expectation that parents will not promote the gambling aspect to kids, especially placing a bet for them, and it is a conundrum. All this is in addition to the possibility a child could be traumatized if they see a horse break down and euthanized on track, which almost certainly will turn them off the sport for some time if not forever. That is exactly what happened with my child. It's not a new issue but it is a real issue and clearly the tracks and industry have yet to identify a viable solution.
So, considering all the concerns stated above, it's no surprise that interest in horse racing is declining. There was a small spike in interest after American Pharaoh won the Triple Crown, although it was short lived, and there was another small spike in 2020 and early 2021 when casinos and sporting events were shut down for COVID-19 and horse racing was the only gambling option, but again that spike was very short lived once other venues reopened. The industry desperately needs to do more to ensure horse safety, they need to do more to ensure that unscrupulous trainers are banned for life and even charged criminally, as Servis and Navarro were, they need to somehow convince younger sports bettors that horse racing is a viable alternative to wagering on NFL and other sporting events, and they need to bring back the local track experience. There is little that can be done to increase odds other than trying to increase field sizes and there clearly is nothing that can be done to satisfy the catch-22 situation with children and gambling, but that doesn't mean they should do nothing. The status quo will almost guarantee the death of the industry in North America within a generation or two, so it is imperative that the racing boards and governments put their heads together to determine some solutions to keep it as a going concern.
In the Kentucky Derby, Mage, a 15/1 longshot with only one win in three starts in his career won the race by a length over Two Phil's and the favorite Angel of Empire. You may have to search sports websites to find that out, however, as the top headline on most sites was about the two horses that died at the track on Derby Day and not the Derby result itself. That alone speaks volumes about the current state of horse racing in North America.