NFL Win Total Predictions
The Los Angeles Rams come into the NFL season as defending Super Bowl champions. The San  Francisco 49ers are the second pick to win the AFC West, behind the Rams. Top NFL betting analyst Doug Upstone, of Doc's Sports, joins me in providing some NFL betting advice and to break down the season win totals for the upcoming season for these two teams. Check the video for free picks for both squads based on trends, facts and observations from many years of handicapping experience form both Doug and I.
For the 2022 NFL season San Francisco has a win total of 9.5 wins at most of the top online sportsbooks. This is a 49ers team that won twice against the Rams during the regular season, only to lose in the NFC Championship game, ending their Super Bowl run.
The opponents for the Niners had a combined win percentage last year of .533, good for fifth toughest in the NFL for 2022. But, using a different metric of oddsmakers' projections for totals wins, the teams facing the 49ers are 17th, middle of the road. The team ended last season on a tear to get to within one win of the Super Bowl and this year they have an easy non-division road schedule, which in my book, is huge.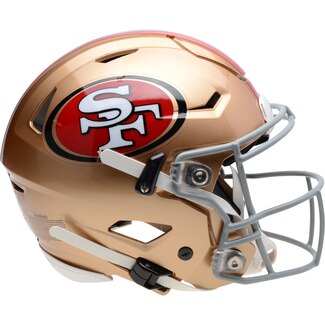 San Francisco made a very bold move in the off-season, trying to part with Jimmy Garoppolo and instead go with second-year quarterback Trey Lance under center. There's little reason to believe Garoppolo will never play for the Niners again and most of that is due to money. Garoppolo is scheduled to make more than 24 million, but none of that salary is guaranteed. However, if he gets injured, that's all guaranteed money.
Still, when I combine all the factors for a talented San Francisco team, with newly minted millionaire Deebo Samuel now onboard, I see the Niners as a team that will go head-to-head with the Rams for the NFC West divisional championship. I'll be taking them to finish over the team total of 10 wins.
Check the video for Doug's take on the Los Angeles Rams' season win total. It's posted at 10.5 at sportsbooks around the world, which seems a little low for a team that is coming off of a Super Bowl victory and is the 4th favorite to head back to the NFL championship at 11-1.
Ross Benjamin is a top sports analyst and one of the sports industry's most respected handicappers. Follow him on Twitter: @RossBenjamin1 or visit his website at RBWins.com