The online gambling division of the Alcohol and Gaming Commission of Ontario (AGCO), iGaming Ontario, released the first-year revenues for the province last week, showing gross gaming revenue of $1.4 billion. The province announced this amid fanfare indicating that it not only provided a great deal of tax revenue to the province, but also created over 12,000 jobs. The figures do not include the Ontario Lottery, which has stated it has 20% of all gambling in the province, but every analyst said that is ludicrous unless they include lottery sales as well. Most admit that the lottery is probably a top revenue generator for gambling due to its head start in the province, but is a bit player with sports betting due to limited interest in the Proline+ product. And the lottery-based Proline product was never a big revenue generator.
On the iGaming Ontario website there are congratulatory announcements from Bet365, Flutter (FanDuel), Rush Street (BetRivers) and Penn Interactive (TheScoreBet), but most analysts I spoke to say that the excitement should be limited. 

While it's true that the figures put it in the top five iGaming markets in North America, they severely lag behind New Jersey and Pennsylvania, which obviously had a head start, as well as New York, which started iGaming around the same time as Ontario and only offers sports betting and no casino gaming. Illinois also had over 25% more revenue in its first year than Ontario. Ontario and Michigan had around the same amount of gross gaming revenue last year even though Michigan only has about 2/3 the population of Ontario, not to mention that in Michigan a person has to be 21 to legally gamble (same with all states) whereas in Ontario it's 19. It is also noted that Ontario has far more operators offering iGaming than any state, including New Jersey. While the province won't release any revenue information by operator, it has been noted by a few sources that Bet365, BetMGM and FanDuel are the three leading private operators in the province by a fairly wide margin. If true, this would be different than every other state where DraftKings is either first or second in the state, along with FanDuel, and where Bet365 is well down the list, even in states where it does operate.
One of the main reasons for DraftKings slower than expected performance in Ontario is that its launch was delayed for almost a month due to technical issues and a representative from DraftKings at the SBC Canadian Gaming Summit acknowledged that to me.
"We had to hold off for almost a month before launching which really hurt us," the representative said. "By the time we launched it seems that the other iGaming operators that started on day one along with the ones who had a head start before the launch took away a lot of our potential customers. We even offered a $2,000 risk-free first bet that didn't get the same reaction it should have." The rep also said that the inability to use its DFS product to promote to Ontario customers limited its success, as this was instrumental in its U.S. success. It should be noted DFS was stopped by both DraftKings and FanDuel at the iGaming launch. The representative said that DraftKings still believes in the long run it will be one of the top companies in the province, but they are biding their time.
Unfair head start
The comments about the head start of other operators was reiterated at the SBC Canadian Gaming Summit last week in several sessions, including one called New Kids on the Block: Lessons learned from international operators' entry into the Canadian market.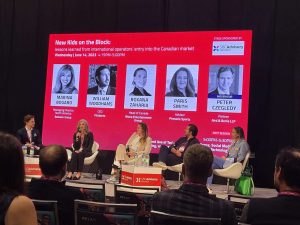 The panelists included speakers from BetSafe, Rhino Entertainment, Pinnacle and Fitzdares. When asked about what they would tell operators thinking of entering the Ontario market, William Woodhmas, the CEO of Fitzdares said "Don't. There are enough of us already." The others nodded their heads, although the biggest beef among all the speakers was related to the amount of paperwork and reports required by iGaming Ontario, including agreements on regulations that delayed the launches of all the companies.
In fact, Fitzdares was one of the first operators to get a license, but they didn't launch for almost a year as they looked over the landscape attempting to determine how they could be profitable with the current situation of the province, including the rule that disallows betting on horse racing, the product that has made Fitzdares a leader in iGaming in the UK. Paris Smith from Pinnacle also acknowledged that they have been able to flip existing Ontario Pinnacle players from the grey market site to the current site. Although without saying it, it was clear that Pinnacle only went this route because they are focusing on Europe, where there are rules against operating in grey markets if a regulated opportunity is present. I spoke to a couple of Pinnacle clients who said they are disappointed with the new launch because it's not the same, noting the inability to bet on casinos or horse racing and also the lack of a cryptocurrency option for payments, plus the odds appeared worse.
Perhaps the most upset with the head start given to certain operators was Richard Roberts, the CEO of Mohegan Digital. I had an interview with Roberts who said that Fallsview and Casino Niagara were hit hard with the launch of iGaming.
Roberts was clear that the mission of Mohegan for all its casinos including Niagara Falls, Connecticut, New Jersey, Las Vegas and a couple of others is to attract people to the physical casinos and that iGaming was just a vertical to get them in the casinos themselves. He noted that the experience of a resort casino including the hotel, concerts, dining venues etc. and cannot be compared with betting online. And while the launch of online gambling in Connecticut, New Jersey, Pennsylvania and other states did not cannibalize land-based casino visits, the same is not true in Ontario. Roberts said that visits and stays at Fallsview and Niagara have plummeted in the last few years which he attributes to the pandemic, the head start from iGaming companies and very restrictive rules by the AGCO that requires a complete separation of the land based and iGaming product.
"The province of Ontario had sent out a discussion paper in March of 2021 on iGaming in the province and I believe it was discussed to the delivery of the paper," Roberts said. "This gave grey market operators a big head start."
Indeed, the concept of an open iGaming market in Ontario was being discussed at the interactive gaming conferences that were held via webinars in 2020 and 2021. A representative from TheScore said at the time "we welcome the competition," a statement he likely resents in hindsight. But it was clear which way the province was going to go, and Roberts believes this gave companies operating in the grey market the incentive to sign up as many players as possible with their unregulated product so they could just flip them at the "new" regulated launch. Unlike other jurisdictions there was never a discussion of penalties for bad actors as Ontario told all grey market operators to join the legal Ontario launch and their previous operations would not be held against them. Companies operating in the grey market that did immediately move to the legal market on April 4, 2022, when Ontario iGaming launched, were Bet365, 888, Bet99, Betway, BetVictor, Party Gaming, PokerStars, Mansion, Unibet and a few smaller companies. Pinnacle, SportsInteraction and some other companies also expanded their marketing to Ontario customers as they awaited approval by iGaming Ontario, although they launched the licensed product in Ontario long after the start date. Also, OLG offered many promotions to Ontario residents to sign up and play at the PlayOLG casino website and Proline+ that offered single game sports betting.
"OLG had a one-year head start over legal iGaming operators," Roberts added.
In reality OLG had been offering online casino gambling legally since 2015 and amassed a lot of customers in the eight years leading up to the open market launch.  It was only with sports betting they had the head start, as the single game sports betting amendment was signed in August 2021, and OLG launched Proline+ right away giving them an eight month head start. OLG did offer an enormous amount of free play promotions to customers, although as noted they lag far behind Bet365, BetMGM and FanDuel in terms of sports betting revenue, so the head start was not that significant. Nevertheless, Roberts is correct that the province promised all parties, including the physical casinos, that it would be a level playing field, which it really wasn't at the start.
Caesars also delayed its start in Ontario as they tried to separate the North American iGaming product. They kept using the brand BetCaesars from the international iGaming product that they sold to 888, and BetCaesars just has never gained the popularity in Ontario of the aforementioned stalwarts.
Pandemic inequality
Roberts also said that while the grey market operators were collecting revenue during the pandemic, Fallsview and Niagara Falls were forced to close. Unofficial reports showed that iGaming at grey market sites actually increased once the initial shutdown of sports ended. But Ontario casinos closed off and on for nearly two years and generated no revenue. Mohegan Sun in Connecticut only closed for two months from the end of March to the end of May for the pandemic, while Resorts Casino, owned by Mohegan, closed for 107 days, along with other casinos in Atlantic City. But in New Jersey, Mohegan and other operators still had the opportunity to generate iGaming revenue while the physical casinos were closed, whereas in Ontario, they got no revenue whatsoever, but still had to pay the fixed costs of owning the casinos. In fairness, Ontario did allow casinos to open for a brief period in July 2021, but the severe limitations on capacity made it logistically unfeasible for the larger Niagara Falls casinos, Casino Windsor (owned by Caesars) and Casino Rama in Orillia to operate. Some smaller racetrack slot casinos did reopen.  It wasn't until March 2022, one year before the iGaming launch, that all pandemic restrictions were lifted in Ontario.
So Many Restrictions!
The other frustration that Richards cited was the fact that he can't advertise the Play Fallsview website and app at the physical casino.
"At Mohegan Sun in Connecticut, I can approach all customers at the casino and advertise to them and offer incentives to play at the iGaming site and I can offer promotions to iGaming customers to come to the casino. But in Ontario I can't do that, and it makes no sense."
This restriction is part of a rule under the category called Inducements, Bonuses and Credits which reads:
"Public advertising of inducements, bonuses and credits is strictly prohibited, including targeted advertising and algorithm-based ads."
Exceptions are given only for advertising on a gaming site as long as the player has visited the site (i.e., you can't offer incentives on a Google search), and advertising through direct messaging and marketing, as long as they are consented to on the gaming site by the customer to receive those communications. There is also a rule that says that offers must not be labelled as risk-free if the player needs to risk their own money or incur a loss to qualify, which was a violation that a few companies were initially charged with.
This rule is the one that has frustrated operators the most and was discussed ad-nauseum at both the SBC North American and Canadian conferences. Operators say that the only way they can differentiate themselves from the rest is through inducements and if they can't advertise them on TV, radio, billboards etc., it makes it nearly impossible to attract bettors. Operators have noted that worldwide, Ontario is the only location that has this rule, although New York and Massachusetts have discussed similar bans. BetMGM, Bet99 and other companies are also worried about the proposed ban on celebrity and athlete endorsements on media since the use of Wayne Gretzky and Jamie Foxx by BetMGM and Austin Matthews and Connor McDavid by Bet99 have been instrumental in attracting new customers. That, combined with the requirement that affiliates not advertise on their site both regulated Ontario companies and unregulated companies catering to Ontario, makes advertising difficult if not impossible to be meaningful.
So, while the 1.4 billion gross gaming revenue sounds good on paper, it's nothing to write home about given the 11 million eligible gamblers in the province. There's no question the very slow first quarter start, which included some major companies being forced to delay their launch, led to the lower than expected figures and looking at the current numbers it is almost certain the year two figures for Ontario will be substantially higher. Michigan, for example, saw a 41% increase in revenue from their first year to second year. But the decision by Coolbet and Mansion to leave the market after one year and the indication that a few other companies are set to follow suit later this year must be concerning to some at iGaming Ontario. This is especially true as some larger operators have hinted that unless a few rules change to make it easier to operate and advertise in the province, they may focus their resources elsewhere.
At the current time there are 45 different operators licensed in Ontario, including 29 offering sports and over 60 offering casinos. This far exceeds any other jurisdiction, including New Jersey, and almost everyone believes it is unsustainable. Despite the crowded landscape, many small operators still believe they can be successful as long as their hands are not continuously tied by the government. This means lowering the amount of reporting required, lifting some of the very restrictive advertising and promotion rules, and working with the operators to address other issues they deem are putting them at a disadvantage with the likes of Bet365, FanDuel and BetMGM. If Ontario refuses to address these concerns, one can expect to see a lot of consolidation and a possible mass exit from the Ontario market.
Ontario has the chance to become the largest market in North America even ahead of New Jersey and Pennsylvania, but only if they are willing to ease a lot of the restrictive rules and work with all the operators.
Read insights from Hartley Henderson here at GamblersWORLD!