What an exciting March of NCAA Basketball! The NCAA Tournament that was full of upsets, buzzers beaters and dominance by one team has ended and so has the first annual GamblersWORLD NCAA Bracket Challenge. The initial year for the bracket challenge featured a $10K perfect bracket prize and a $1000 prize pool.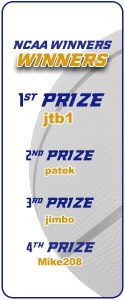 We are happy to announce "jtb1" as the winner of the 2023 GamblersWORLD NCAA Bracket Challenge! jtb1 had UConn winning the Championship game and that proved to be the deciding factor after all of the #1, #2 and #3 seeds were eliminated before the Final Four. He had a huge five point winning margin by collecting 81 points to cash for a whopping $500 cash prize!
"patek" was near the top of the leaderboard throughout much of the tourney, firing 40 correct picks, amassing 44 points after the first two rounds! But five winners for jtb1 in the Sweet 16, dropped patek to second place. He finished with 76 points, good for a $250 prize.
In any tourney bracket contest, they key to winning is simply having the team that hoists the trophy and cuts down the nets, as the winner is worth 10 points, as are the two combined Final Four games. The dominance by Connecticut sealed the deal for everyone who cashed for a prize. UConn backers leapfrogged the field to the front of the leaderboard, as all of the top 5 finishers had the Huskies to win it all.
"Mike208" was one of those players. He came from way down the leaderboard to wind up in fourth place with 67 points, despite picking just 38 tourney games correctly. He'll collect $50 cash for his outstanding effort.
Rounding out the prize winners is "jimbo", who captured the third place prize of $100. He had the same amount of correct picks in the first two rounds as the tourney winner, but as the games were worth more and more points, he faltered to wind up in 3rd place with 66 points.
Congratulations to everyone who played and to these who cashed in! Head to the GamblersWORLD NCAA Bracket Challenge leaderboard to check the standings and see how you fared versus other players. Make sure to stay in touch with us here at GamblersWORLD. We are going to offer more great free contests, including the return of our popular Progressive Pick 'Em, with a huge surprise for players, when NFL football returns in the fall.